Sculpterra Winery
5015 Linne Rd, Paso Robles, CA 93446, Paso Robles, CA
---
Tips from the owner
Last Mile Instructions:
1) When driving from town down Linne Road you'll find our access road just after passing Penman Springs Road and the old Berry Hill farm.
2) When you see our beautiful entrance sign, turn right to head towards our tasting room, if you get to a small bridge you've gone too far.
3) When driving down the road keep your eyes to the left and you'll see a hand crafted iron fence and our one of a kind entrance gate crafted by Robert Bentley.
4) Pass through the gate and follow the path through the vines and you will be met with our tasting room and Sculpture Garden
5) A last mile map is included in the "Info" button of this site.

Sculpterra Winery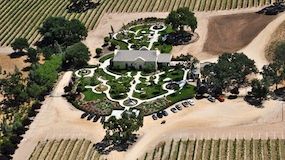 Sculpterra Winery and Sculpture Garden is an amazing combination of great wine and magnificent art. The wines are hand crafted and meticulously cared for, with the grapes coming from our own 260 acre estate.
The tasting room and surrounding gardens are adorned with larger-than-life original bronze and granite sculptures that create a truly one of a kind wine country experience in Paso Robles.
A portion of the proceeds from the sale of Sculpterra wine are donated to "His Healing Hands", a medical missionary foundation that sends medical missionary teams on short-term trips all over the world to care for the most needy under-privileged peoples on all five continents. The owner of Sculpterra, Dr. Frankel, is one of the founders.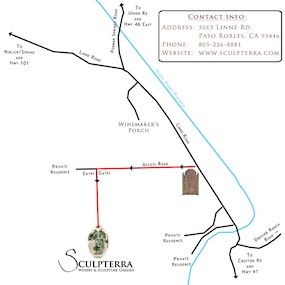 Map to Winery Note "Access Road" is not the name of the road, it does not have a name. Access Road signifies that this is a dirt road you use to "access" the winery. Look for the large Sculpterra sign on Linne Road where it meets the access road.