---
Tips from the owner
Last Mile Instructions:
Located about 25 minutes from town on the westside not too far from Justin Winery
· Left heading west on Klau Mine Road
· One mile on the left you'll see a paved driveway (Dodd Ranch Rd.) with a gate that bears our address:
· 10425 Klau Mine Rd. and a "Rangeland Wines" sign.
· We now have an electronic gate opener at the entrance, please contact us for the code
· Proceed one mile on the paved driveway, past cattle guard and "Adelaida Springs Ranch" sign
· For tasting at Ranch Headquarters turn left on gravel road (Borealis Way) at "Foshay Home and Vineyard" sign
· Pass through 2 automatic vineyard gates (stay to left to activate - no code needed)
· You can't miss the house about 1/4 mile past vineyard
· Please drive slowly and carefully, the road is narrow and steep in spots
Hours:
Open Daily,
by appointment only
Guided Tours of Ranch:
Call us to make an appointment!
Walk through our vineyard, historic homestead and Native American sites, grass-fed cattle and sheep, learn about our local geology, wildlife and native plants.
$10/pp with a $20/minimum, FREE to wineclub and beef club members.
Hours: Open Daily by appointment only
 
Rangeland Wines
Rangeland Wines are grown in the limestone hills at the far western frontier of the Paso Robles appellation. Just 12 miles from the ocean at 1700 feet of elevation, our Adelaida Springs Ranch estate vineyard is set in a natural tapestry of rolling oak woodlands, abundant wildlife and grazing livestock.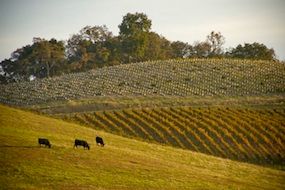 We offer wine tasting by appointment at our home and ranch headquarters, where you can enjoy 50 mile views of the Santa Lucia Mountains. The $10 per person tasting fee includes at least 4 wines and the fee is waived if you purchase a minimum of one bottle of wine per person. We discuss the history of the ranch and vineyard, as well as our wine growing practices, local conditions and their influence on Rangeland Wines. Tastings and tours are free for wine club members. 
Whether you're interested in a walk through our vineyard,  historic homestead and Native American sites, grass-fed cattle and sheep, local geology, wildlife or native plants, you'll find something of interest on our ranch tours. Led by owner Laird Foshay, our 1-hour ranch or vineyard tours are $10/person with a $20 minimum. Free to wine and beef club members. Tell us about your interests and we'll customize the experience.
Take a peek at PBS Food video featuring our grass fed beef raised on our 1,500 acre Ranch:
Cattle Harvest in Paso Robles | Original Fare | PBS Food